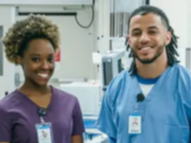 8b and Above Online Symposium for Nurses & Midwives from Black, Minority Ethnic backgrounds & Allies
6 July 2022
9:00am – 3:00pm
BST (+01:00)
Virtual (MS Teams Live)
Register to attend our 3rd online  8b and Above Symposium for Black, Minority Ethnic nurses, midwives, allies and system leaders
Theme: Action Now: Rising up and Leaning in  
Aim: To increase representation of 8b and above Black, Asian, and Ethnic minority nurses and midwives nationally by inspiring confidence, highlighting opportunities, harnessing system support, showcasing best practice; working with and challenging the system leaders to deliver measurable step change.
Keynote speakers will include Ruth May Chief Nursing Officer for NHS England and Jacqueline Dunkley-Bent, Chief Midwifery Officer for England.
We have a credible line up of speakers throughout the day, from diverse professional backgrounds and settings.
We are looking forward to an engaging panel discussion with system leaders - Facilitated by Roger Kline, Research Fellow, Middlesex University Business School, Consultant on Workforce Culture. 
This is an opportunity to listen to your regional response to the CNO and CMidO Ethnic Minority Action Plans, progress to date, and worked planned for 2022/23 and beyond.
Questions about this event?
Name: Nursing Professional Development
Email:england.nursingleadership-development@nhs.net
Telephone:07702421786
General FAQs