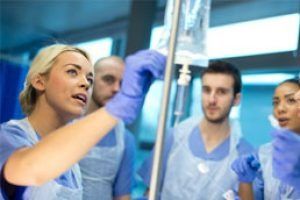 8. Nursing the problem of AMR using the 5 Rs
18 October 2023
9:30am – 12:00pm
BST (+01:00)
Virtual (MS Teams)
Antimicrobial resistance (AMR) is a global health threat. In 2019 there were 4.95 million deaths associated with bacterial AMR across 204 countries, and 1.27 million of those were directly attributed to a drug-resistant infection. AMR now kills more people than HIV/AIDS or malaria. The World Health Organisation has stated that in order to effectively address AMR "… all clinicians and health-care workers must become stewards of antimicrobials by prescribing them appropriately and educating their patients and colleagues on the proper use of this increasingly scarce medical resource".   So what does this mean for nursing staff and how can they play a role in the antimicrobial stewardship (AMS) agenda?
This webinar will discuss how AMS interventions can be integrated into the nursing role using the 5 Rs and reflect on the benefits to patients, staff and systems on the impact of AMS in a hospital setting. There will be an opportunity to briefly discuss two case studies and consider the benefits of timely IV to oral switch. 
Date: Wednesday 18th October 2023
Time: 09:30 – 12.00noon (via MS Teams)
Itinerary:  The itinerary will be available in early September.
Who should attend?  This webinar is suitable for general nurses as well as specialist AMS/IPC nurses. 
Registration: Click on the link to register your interest. You will need to block out the date in your diary and request study leave if applicable. An MS Teams Link will be sent out nearer the time. 
Registration will close at 1pm on Friday 13th October, or sooner if the event over-subscribes. 
Certificates:  Certificates of Attendance will be available to everyone who has completed the webinar.
If you have any queries about this event, please contact Fiona on: england.amrprescribingworkstream@nhs.net 
Downloads
cloud_download2023 08 Agenda Nursing The Problem Of Amr Using The 5rs 20231018 Draft V0 2
Questions about this event?
Name: Fiona Marshall
Email:england.amrprescribingworkstream@nhs.net
Telephone:ooooooooooo
General FAQs