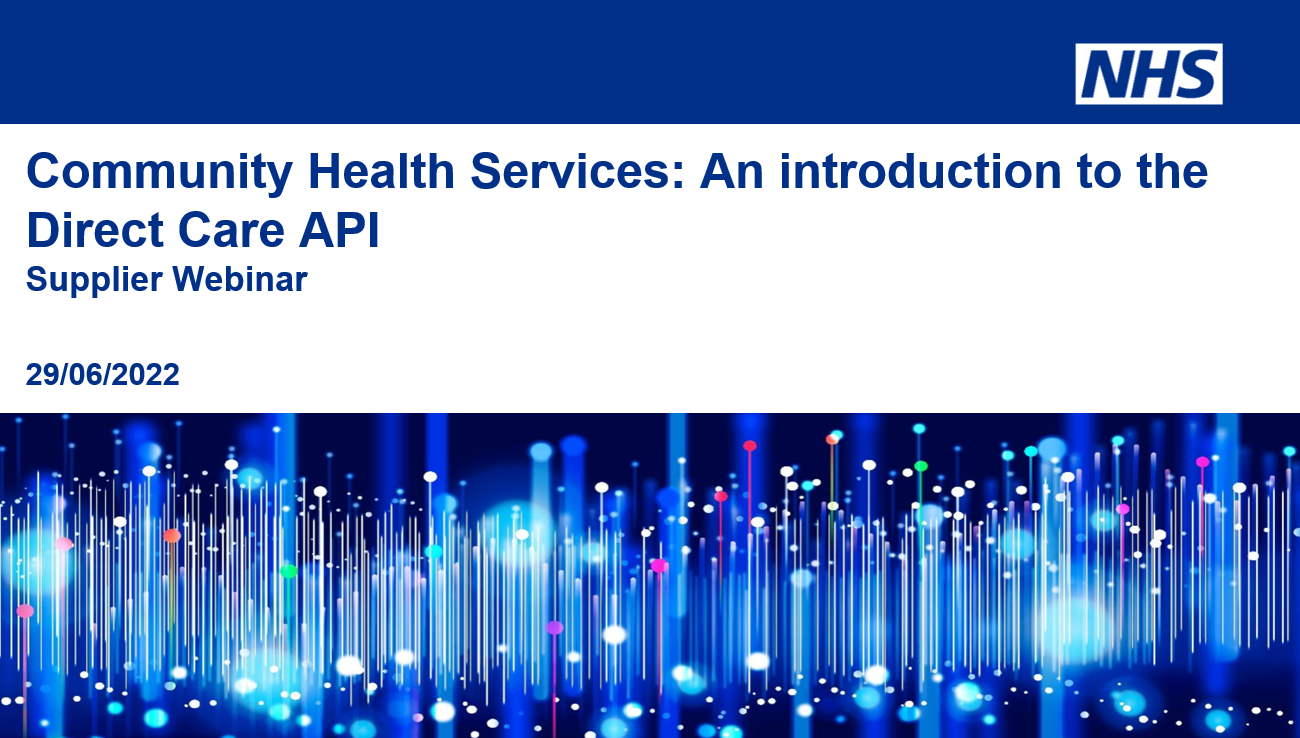 Community Health: an introduction to the Direct Care API - Supplier Webinar
29 June 2022
11:00am – 12:30pm
BST (+01:00)
Virtual (Microsoft Teams)
Ticket sales finished: 27 June 2022 11:59pm
Dear colleague,
You are invited to join NHS E&I and NHS Digital for special webinar for suppliers, focused on the further digitisation of Community Health.
Taking place on Wednesday 29th June from 11.00 to 12.30, the session will specifically cover the work we are undertaking to enable NHS funded Community Health Care settings to get access to clinical GP data, notably via the integration of the Direct Care API (also known as GP Connect).
Who is the event for?
The webinar is for Suppliers providing an Electronic Patient Record (EPR) to Community Health Care providers. IT suppliers will be fundamental in the delivery of this programme of work so engagement with the sector is crucial. As such we would like as many system suppliers as possible to join us, specifically those providing IT systems to Community Health.
At the event, we would really encourage you to share information with us about any of your challenges, and customer base feedback that you believe could support our agenda.
What will the event cover?
The session will provide suppliers with:
Information on GP Connect API, that enables authorised clinician staff access to GP data, in a standard form across different systems and care settings
Details of the benefits of integrating the API for both suppliers and clinical settings
Guidance on how to implement the API
What is the Direct Care API?
Access to GP data for is central to this work so we are kicking off our work with the provision of the Direct Care API that will enable authorised clinical staff in NHS funded Community Health Care settings to access GP data in a standard form.
How to register your attendance
If you would like to attend the webinar, please register your details HERE
Joining instructions will be sent via email approximately 48 hours before the event date. Should you have any enquiries please contact us by emailing nhsdigital.industryqueries@nhs.net or contacting 07798 655027.
We look forward to welcoming you on the day. 
Please note we reserve the right to publish attendee lists and use your email for follow up evaluation.
Many Thanks
The Industry Engagement Team
Questions about this event?
Name: NHS Digital Industry Team
Email:nhsdigital.industryqueries@nhs.net
Telephone:xxxxxxxx
General FAQs