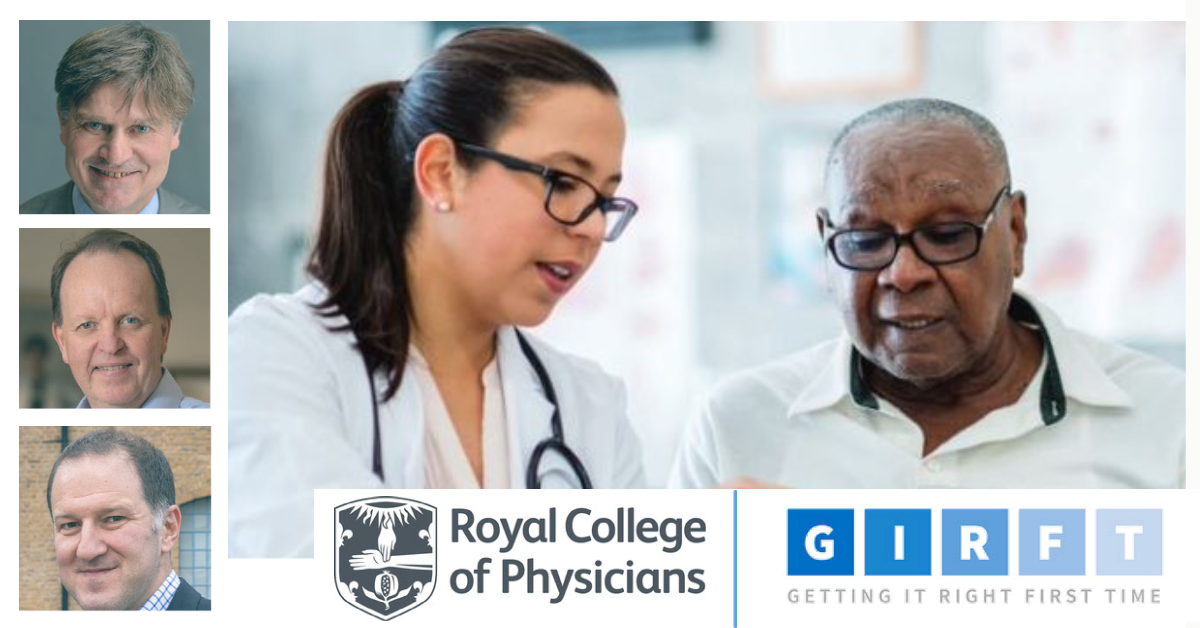 GIRFT and RCP webinar series: Frailty care in the community
20 June 2023
12:30pm – 1:45pm
BST (+01:00)
Virtual (MS Teams Live Events)
GIRFT and RCP webinar series
Webinar 3: frailty care in the community
More than 4,000 people are admitted to hospital every day in England as a result of frailty. This webinar – co-hosted by the GIRFT programme and the Royal College of Physicians (RCP) – is the third in a series focusing on the challenge posed by increasing demand from an ageing population and will look at frailty care in the community, examining how community focused frailty care can offer an alternative to hospitalisation and help to prevent the progression of frailty.
This webinar will focus on frailty care in the community.  We will hear from the following speakers:
Dr Adrian Hopper, GIRFT clinical lead for geriatric medicine will be presenting on what GIRFT data tells us about frailty in the community.
Dan Harman, consultant community geriatrician and clinical strategic lead for frailty, who will talk about the Hull and East Riding model, highlighting best practice in the management of frailty care in the community.
Professor Adam Gordon, president of the British Geriatrics Society will present on frailty care in care homes and give insights on how this provides an alternative to hospitalisation.
Dr Sharmeen Hasan, consultant geriatrician at King's College Hospital will present on end of life care support in the community, focusing in advance care planning.
Tom Gentry, senior lead for health and care policy at Age UK who will talk about social care from the patient and carer perspective and the innovative work undertaken with the Age UK network.
If you would like to view the previous webinars in this series, these are available here:
The joining link will be sent by separate email prior to the event.
Questions about this event?
Name: Sophie Sheard
Email:sophie.sheard1@nhs.net
Telephone:07876478799
General FAQs