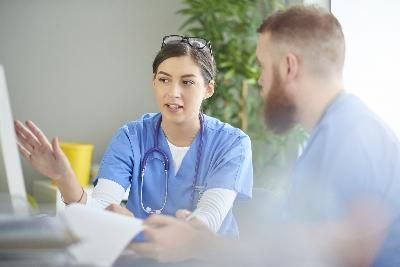 Train the Trainer: How to have safe and effective wellbeing conversations (Facilitator Briefing)
9 January 2023
9:30am – 11:00am
GMT (+00:00)
Virtual (Microsoft Teams)
Please be aware that this session is only open to colleagues who have completed the application process. Delegates will need to ensure they have completed the national Health and Wellbeing Conversations Training (HWBCT) before attending a Train the Trainer session.
Joining details will be issued via email a few days prior to the event. Once you have registered for a place, we recommend you add the event to your calendar.
In response to significant demand from NHS organisations, the Train the Trainer offer for the national Health and Wellbeing Conversations Training (HWBCT) has been extended in to 2022/23.
It is open to NHS HR, OD and Wellbeing professionals (by application) who have already attended the national training and will go on to deliver the training across their organisations.
The aim is to enable participants to:
Deliver the national Health and Wellbeing Training workshop across their organisation
Tailor the core workshop to meet the needs of specific local audiences
Be part of a national Community of Practice
HWBC Facilitator Briefing
These 90 minute virtual briefings will be delivered for groups of up to 12 people. 
Their purpose will be to give participants:
Appreciation of the structure, flow and coverage in the HWBC workshop
Guidance on facilitating exercises and discussions in the workshop
Access to all resources needed to run a workshop effectively.
All resources, including facilitator notes, will be made available to participants via a dedicated area on the Futures platform.
Questions about this event?
Name: Samar Hayek
Email:ournhspeople.hwb@nhs.net
Telephone:07730375608
General FAQs