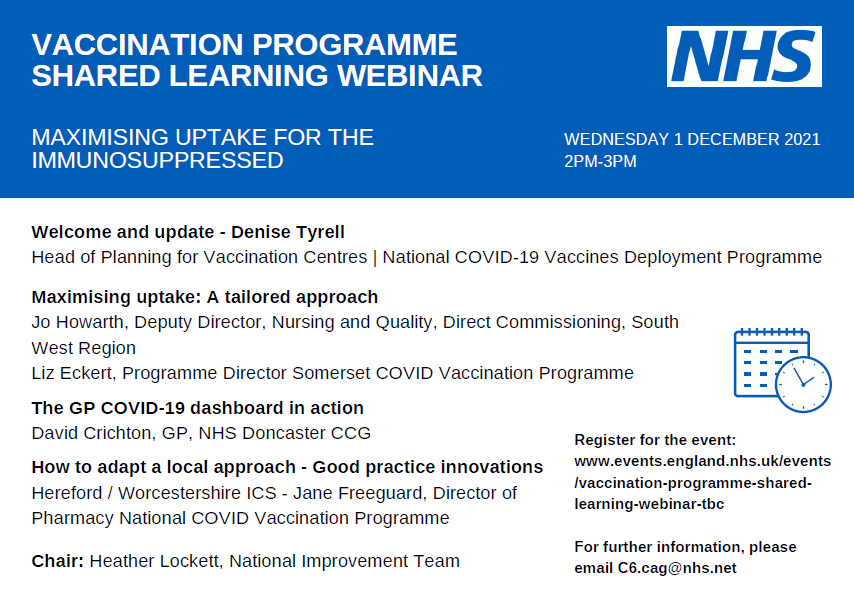 Vaccination Programme Shared Learning Webinar: Maximising Uptake for the Immunosuppressed
1 December 2021
2:00pm – 3:00pm
GMT (+00:00)
Virtual (Microsoft Teams)
***This event is targeted to those within the Covid Vaccination Programme, please do not share the invite beyond the programme.***
You are warmly invited to join us in our series of virtual sessions to share Quality Improvement learning across the NHS Covid-19 Vaccination Programme.
This one-hour virtual session will be the 4th in the series and will focus on:  Maximising Uptake for the Immunosuppressed
Recordings of the previous shared learning webinars are available here. 
We are really keen for you to have a forum to share and celebrate your achievements so please do let us know what topics you would like to hear about or share at future webinars by completing a short survey here. 
Questions about this event?
Name: Helen Keynes
Email: c6.cag@nhs.net
Telephone: 07714 778 788
General FAQs